Carnival Rides are a staple to many events! Take a look at some of our amusement ride rentals available for your next event. From the classic rock wall to the sizzling Ballistic Swing, our rides are sure to leave an impact at your event and leave your guests saying "WOW!" Call or email us today to learn more about our portable carnival ride rentals in Michigan!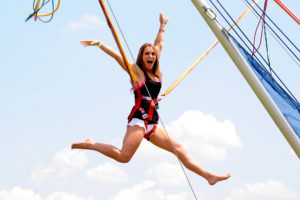 Quad Bungee Trampoline Our bungee trampoline is great for large events! There are four jumping surfaces to give more participants an experience of a lifetime. Secured safely in an adjustable harness, participants are free to experiment with acrobatic movements or to simply jump as high as they can. Imagine jumping 24′ into the air and…
Read More
Are you ready to find out how we can help?