Planning a company picnic or employee appreciation event? Well you've found the company picnic planning experts. All About Entertainment specializes in planning company picnics from start to finish making it as simple as possible for you making you look like the event planning hero.
All About Entertainment can provide tents, tables, chairs, inflatables, rides, catering, entertainers, DJ's, activities and much more. All About Entertainment also has an in house catering division called Dad's Classic Catering who once again specializes in company picnics. Notice a trend? We are the source in West Michigan for company picnic planning.
Let us explain to you how we can make your next event the most memorable event yet. Call us at 231-256-1200 to get started.
Here are some ideas of attractions for your company event.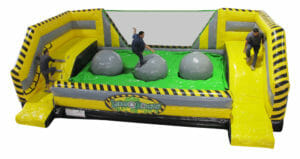 Leaps and Bounds is an exciting new inflatable attraction that challenges riders to get from one platform to the other while bouncing on the 3 inflated balls. If the rider loses their balance, they fall onto the Zero Shock Technology inflated landing bed. This attraction is different, fun and definitely safe! We recommend renting the Leaps…
Read More
Are you ready to find out how we can help?