Inflatables are one of the most popular activities at school carnivals, company picnics, festivals and church functions. Why? Inflatables are larger than life and can entertain many people at one time. Our inflatable rentals range from inflatable bounce houses to monstrous and towering inflatable slides. Our inflatables are available for rent in all cities of Michigan including Grand Rapids, Muskegon, Kalamazoo, Lansing, Detroit, Big Rapids and Grand Haven.
Don't see what you're looking for? Visit our sister company's site at ACPEntertainment.com  or Click Here.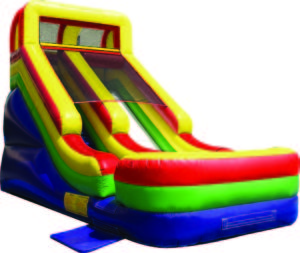 Looking for an inflatable attraction that can handle high throughput? Inflatable slides is your best bet and our 18 foot giant slide is the perfect solution for a medium sized slide. This single lane inflatable slide is perfect for school carnivals, company picnics and church events.
Read More
Are you ready to find out how we can help?