About Us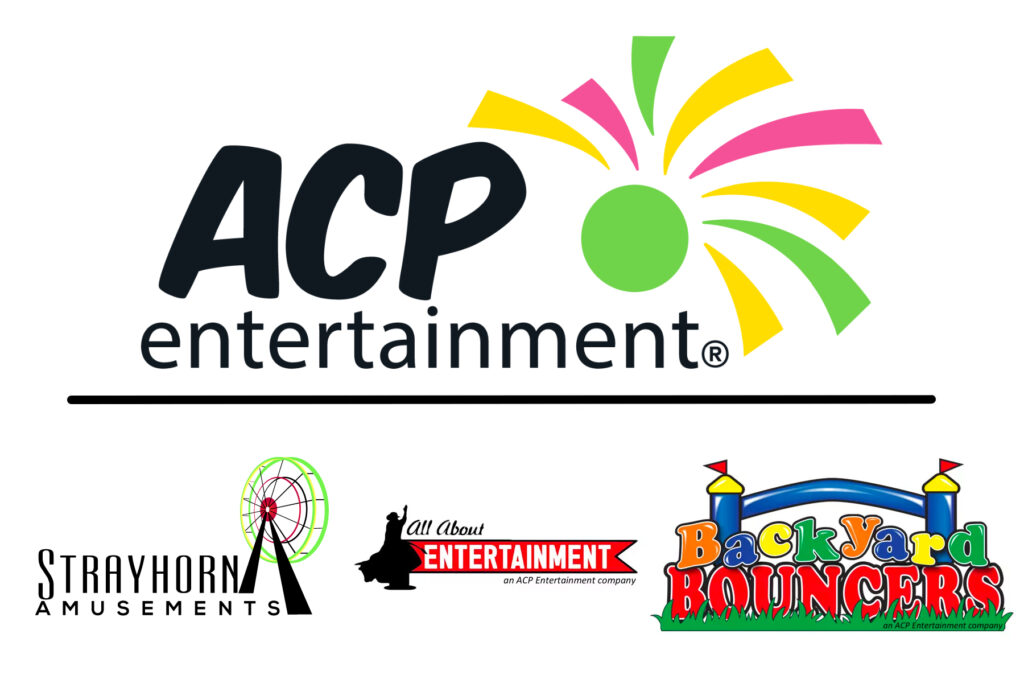 Our Story
All About Entertainment was founded in 2002 and was originally based in Muskegon, MI. When All About Entertainment was founded, they only had a few rental items to provide to their customers. In the years following, All About Entertainment grew to be a full service entertainment provider in West Michigan servicing events all over the state of Michigan, Indiana and Ohio. In February of 2017, ACP Entertainment purchased All About Entertainment and adopted All About Entertainment into its operations.
ACP Entertainment is a family owned and operated company and was founded in 2008. ACP has since had the privilege of providing attractions and services to over 3,000 events in the states of Michigan, Indiana, Illinois and Tennessee. ACP Entertainment, similarly to All About Entertainment, specializes in company picnics, festivals, school events, college student activities and other large-scale event production services.
ACP Entertainment owns multiple companies which contributes to our overall event planning expertise. In addition to All About Entertainment, ACP Entertainment also owns and operates Strayhorn Amusements and Backyard Bouncers. Backyard Bouncers focuses on inflatable and other party rentals for residential events on a budget. Strayhorn Amusements focuses on larger amusement ride rentals for events across Michigan, Indiana, Illinois and Florida.
With the expertise of our experienced staff, your event is sure to be a success when you book with us. We're excited to create incredible and long lasting memories for you and your guests.
Frequently Asked Questions
Need help? Be sure to visit our support forums for answers to your questions! How much does it cost to rent a Bounce House, Obstacle Course, Mechanical Bull, Rock Wall or other activity?
We do not list pricing on our website due to the many factors of quoting each and every event. Not every event is the same, nor should it be. Allow us to quote the best solutions for your event by calling or emailing us. What if the weather is bad or it rains?
We do not operate our equipment in rain or high winds. If recent weather has caused the set up area to become muddy, you will need to locate an alternate area. Also, the inflatable rides become very slippery when wet and can only be operated once dried. What is the problem with getting the equipment wet?
We are doing our best to keep all the equipment clean and safe. With that in mind, if the bounce house gets wet, the vinyl can become very slippery which can add an unsafe element. Also, if we need to pack up the bounce house while still wet, there is a chance of mold/mildew occurring as well as damage to the stitching. Can I cancel?
Due to the amount of pre-planning and limited space, deposits are non-refundable. Cancellations will result in a forfeiture of the full amount of the deposit. Deposits are also non-refundable due to inclement weather, unless an alternative indoor site is chosen. The deposit can also be reapplied to your next event within 90 days of the originally scheduled event. Can you set up indoors?
Absolutely! Some attractions may not fit in your indoor location so it's best to consult one of our sales representatives before booking. Do you set up in parks?
Yes, however permission must be given by the proper authorities and we need to ensure electrical power can be supplied by a building at the park. If not, we can provide an electrical generator. Can you set up on pavement?
Yes. We prefer to set up inflatables on a lawn or grassy area because it is safer to secure the units. If we must setup on pavement or cement, we will use sandbags to anchor the inflatable instead. We cannot set up on a gravel surface. Rides can be set up on grass, in a parking lot or other hard, level surface. The safety of the participants is the most important consideration when selecting a setup area. My party is tomorrow. Can I still get a rental?
It's possible but not guaranteed. We always recommend booking as soon as possible to guarantee availability. What area do you provide your services?
We provide entertainment services to the entire state of Michigan and surrounding States. Travel feels apply and very depending on the location of event.
Ready to get started? Contact us today for a free quote!